The sixth guided tour of the 'Traveler, I'll teach you Segovia' cycle organized by Prodestur, the provincial council's tourism organization, explored Maderuelo and Languilla last Saturday. Enclaves of medieval origin, attractive landscape, hidden places and Romanesque in its purest form in the northeast of the province whose details were described and discovered by Leticia Hernández and Ana Gómez, the two guides who accompanied the 16 participants on the route.
The expedition began in Languilla, where the church of San Miguel, in Romanesque style, was seen, with its splendid archivolt portal supported by interesting carved capitals in which scenes of Adam and Eve in Paradise, the Slaughter of the Innocents and the beheading of San Juan Bautista and believed to be the work of the same stonemasons who intervened in the cathedral of El Burgo de Osma.
Later, the groups moved to Maderuelo, where they contemplated the Templar hermitage of Vera Cruz, which housed one of the best sets of Castilian Romanesque frescoes. Although these are in the Prado Museum in Madrid, the temple maintains its restored imprint. From here the visitors contemplated part of the wall and the Linares reservoir.
Then they entered the town through the Arco de la Villa, the emblematic entrance of Maderuelo, to stroll through the medieval streets, contemplate the church of San Miguel, the Puerta del Barrio and the Casa - Torre del Hospital, the church of Santa María del Castle and the fantastic viewpoint.
As one of the objectives of the activity is to promote and disseminate the trade, industry and hospitality of the different areas, the Artisan Leather Workshop 'Lespi', in Maderuelo, was visited. In this regard, the participants were also given a list of the different establishments where they can stop and eat once the visit is completed within a radius of twenty kilometers.
The initiative 'I will teach you Segovia traveler' tries to promote and value the work of the official tourist guides of the province, experts who know all its secrets and historical, archaeological, monumental, landscape or museum resources and who are officially qualified to show them. The seventh guided tour of the cycle is scheduled for next Saturday, October 24, and will enter the Cuéllar region to visit the Sanctuary of El Henar and the town of Cuéllar, the epicenter of Mudejar in the province.
The reservation request can be processed by sending an email to the address This e-mail address is being protected from spambots. You need JavaScript enabled to view it.. Registration is three euros and travel to the starting point of the visit must be done by private car.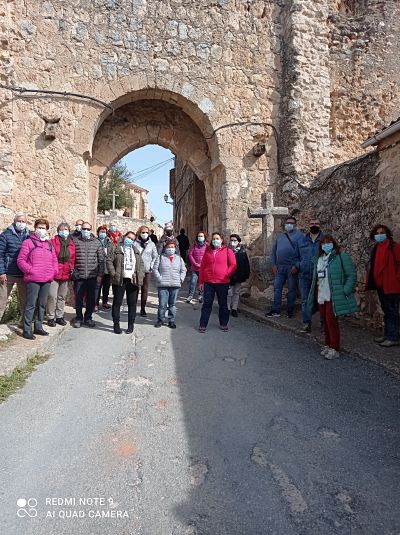 Source: Diputación de Segovia