A couple of weeks ago, Cuéllar became a filming set for an international series and its effects are already counted as "very positive" given the negative situation that exists at the national level in all areas. In the absence of a more exhaustive accounting, the mayor commented on what this filming has meant in the town, with an impact at the regional level in its early phases, and that it will advance to international levels when it is broadcast on digital platforms. At this regional level, Carlos Fraile explained that the repercussion has spread to both provinces, both Segovia and Valladolid, in terms of consumption in their hotels and accommodation. For the town it has been a shock and has also been noticed in some businesses; For example, Fraile spoke of the rental of platforms necessary for some filming tasks, the rental of portable toilets or even the consumption of fuel at gas stations. "It seems silly but in addition to the refueling itself, they had to use cylinders that were purchased in Cuéllar," said the mayor.
"We are delighted, a more than positive balance after the most immediate impact and from the economic point of view," said the mayor. "It is an issue that has a spaced return," said the mayor while thanking all the local media for the follow-up carried out to frame Cuéllar in this context, as a scenario. "That Cuéllar has appeared so many times in a week in the national media is very positive"; In addition, Fraile commented that we must wait for the series to be broadcast and the attraction of Cuéllar as a chosen place of tourism act.
However, the most satisfactory consequences have not only come in the economic sphere, but also in the social sphere "in a year as flat as this one." This is how the mayor explains what has meant that a team of 300 people traveled to Cuéllar and chose its monuments as the filming set of a series that, as its own producer -José Luis Moreno- commented, "they say is the new 'Game of Thrones' ".
Finally, the mayor took advantage of this balance to also thank all the staff of Tourism and Culture, in addition to the Local Police, for their work, dedicated those days to everything the production company needed. "The producer himself said it: they had been very comfortable." The company will provide the City Council with a dossier of Cuéllar's media impacts on all types of media that will complete the balance.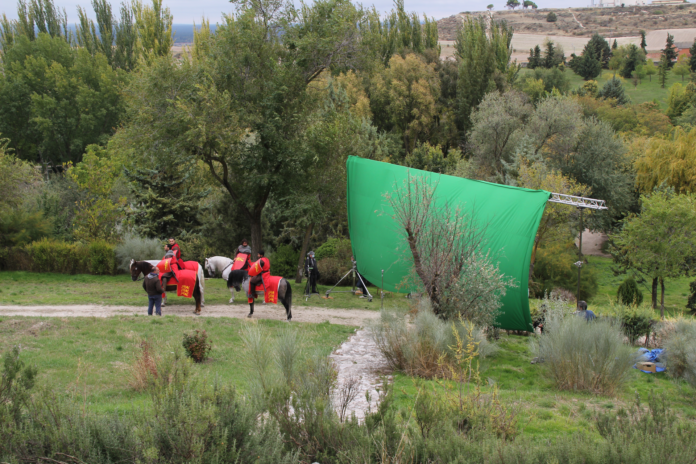 Source: Adelantado de Segovia