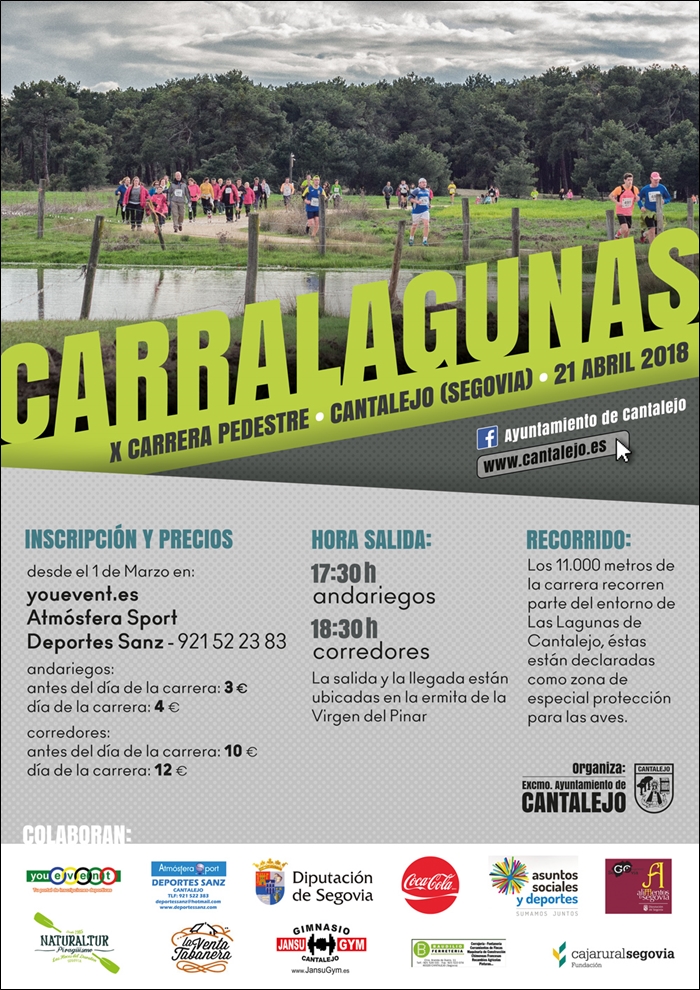 ORGANIZED: City of Cantalejo.
TRAVEL:
The 11.000 meters of the race cover part of the environment of Las Lagunas de Cantalejo, these are declared as special protection area for birds (ZEPA).
The departure and arrivals are located in the hermitage of the Virgen del Pinar, patron saint of Cantalejo.
There will be an aid station at km 5 and at the finish line a final race refreshment with fruit, soft drinks and water.
A race for the enjoyment of the runner, of the andariego and of the spectator, who during all his route, will be between pine groves and lagoons. An incomparable framework to unite sport and nature.
PARTICIPANTS:
The route can be done both running, (maximum 200 people) and walking, (maximum 150 people), the outputs being:
· 17: 30 h> Exit of Andariegos
· 18: 30 h> Runners Output
CATEGORIES:
For the pedestrian race the following categories are established:
· Absolute> Born in 1979 and later.
· Veterans> Born in 1978 and earlier.
AWARDS:
Trophies + products from the land to the first 3 of each category, both male and female.
Trophy + products from the land to the 3 top local classifieds in general both male and female. Awards not cumulative.
All participants will be given at the end of the test, a snack with refreshment.
For brokers there will also be a gift bag from the broker.
2017 CLASSIFICATIONS:
GENERAL RANKING
ABSOLUTE CLASSIFICATION BY SEX
CLASSIFICATION BY CATEGORIES
CLASSIFICATION OF MALE EQUIPMENT
CLASSIFICATION OF FEMALE EQUIPMENT
INSCRIPTION:
The registration period will be from the 19 of March to the 20 of April to the 20: 00 hours. If there are free places, they can register the same day of the race.
The registration fee will be 10 € for the Pedestrian Race and 3 € for the Andariegos. In case of signing up the same day of the race, the registration will be 12 € for runners and 4 € for runners.
To make the inscriptions, you can do it: