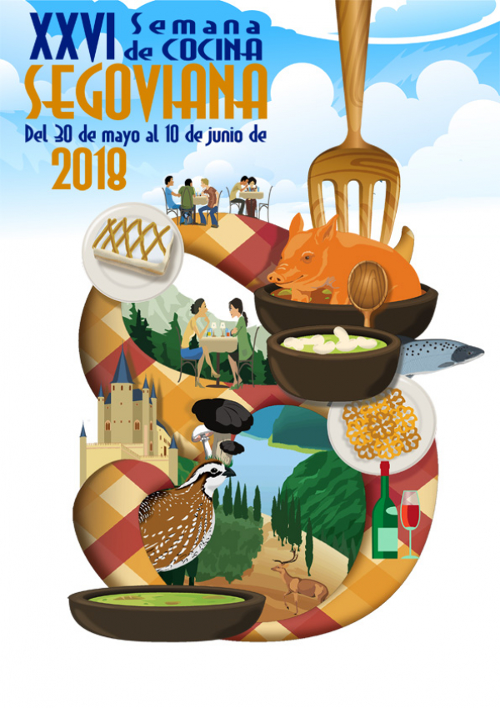 The Industrial Association of Hotel Owners of Segovia organizes from 30 from May to 10 in June a week of gastronomy homage to the cuisine of Segovia.
Different formative activities, games, events, etc. will be carried out. In addition, you will find a special menu in each restaurant.
The program that will be followed these days will be the following:
WEDNESDAY 30 de MAYO
17: 00 h.Opening SUPPLIER FAIR: "SEGOVIA FOR A QUALITY HOSTELERIA". In PORTICO REAL you can visit the hospitality fair, where there will be tastings and presentations.
17: 30 h REPSOL day energy efficiency, savings and financing.
18: 00 h. SHOWCOOKING BY CHEF DAVID GARCIA representing Aguinaga, the North gula (by Distralicon).
19: 00 h. Conference on doubts and coverages in insurance, stock exchange for sale, transfer and rental in the hotel business (by Tapias & Bellido).
19: 30 h. INAUGURATION ACT. In the PORTICO REAL, THE INAUGURATION OF THE XXVI WEEK OF COCINASEGOVIANA and the 2nd EDITION OF THE SUPPLIERS 'FAIR OF HOSTELERÍA "SEGOVIAPOR A QUALITY HOSTELERIA" will be celebrated. The proclamation will be offered by DÑA. SILVIA CLEMENTE MUNICIO, President of the Cortes of Castilla León and as special guest Mr. ADOLFO MUÑOZ MARTIN President of Saborea Spain, will be accompanied by Mr. Javier Ramírez Utrilla, Director General of Tourism and the most representative local authorities.
THURSDAY MAY 31
10: 00 h. Opening of the SUPPLIER FAIR: "SEGOVIA FOR A QUALITY HOSTELERIA".
10: 15 h. DAY LA CAIXA HOTELS & TOURISM, inauguration by the local authorities. Payment gateways, card data protection, fraud and solutions for the tourism sector.
12: 00 h. Coffeebreak
12: 30 h. PRESENTATION and MASTERCLASS by COCINA DE IDEAS, innovation in the cooking of the Judgment of La Granja brand of guarantee, by QBET and its star Chef
13: 15 h. Organic wine tasting 2018 DIAMONDS MEDAL from BODEGACASA DE LAS ESPECIAS
17: 00 h. FAIR OPENING. Presentation of a new range of products, by the company SEGOFOOD
17,30 h. DO BAENA extra virgin olive oil tasting.
18: 00 h. SHOWCOOKING by CHEF MIGUEL GARCIA, how to make the best use of artichokes and roasted peppers with reduction (by the company DISTRALICON)
19 h. Artisan beer tasting OCTAVO ARTE
19,30 h. Presentation and tasting of CANTEBRIA BLUE BITE MEAT by the company CAYDESA and its star CHEF (by the company DISTRALICON).
20 h. Masterclass and tasting of LIQUORS AND COMBINED (By courtesy of Coca-Cola)
MONDAY JUNE 4
18: 00 h. TASTING OF WINES AND MASTERCLASS OF CUT OF HAM. Directed by the Association of Sevillers of Segovia and Castilla y León. Masterclass of ham cutting courtesy of DOMPAL HAMS, the SECRET OF CASTILLA C / EzequielGonzalez nº41 will be celebrated in the Restaurant (Wines of the BODEGAS SEVERINO SANZ, VAGAL, ​​CASA DE LAS ESPECIAS, REDORA REDREJA and HERRERO BODEGA, belonging to Alimentos de Segovia ), free entry and tasting until full capacity is reached.
TUESDAY JUNE 5
9: 30 h. DAY OF THE PROVINCE. Tourist visit and guided by courtesy of PRODESTUR, in the area of ​​EL ESPINAR, visit the factories of SIRO and BEZOYA, then there will be a meal in the Restaurant CA-TECHU del Espinar.
JUNE 6 WEDNESDAY
10: 00 h. HEALTHY KITCHEN WORKSHOP FOR CHILDREN. The children of 2º of primary of the school CLARET will elaborate their own pizzas in the same school. Exhibition of Acrobatics with Pizzas by Lorenzo Herrero of PIZZERÍA DUMBO (La Granja).
THURSDAY JUNE 7
18: 00 h. TASTING OF THE NEW RANGE OF CRAFTS OF MAHOU AND CHEESE OF MONCEDILLO QUESERY (Alimentos de Segovia) in the Restaurant LA CODORNIZ C / Hermanos Barral, 1. Free entry and tasting until full capacity is reached.
SUNDAY 2 DE
20: 30 h. CLOSING DINNER AND GALA OF THE PROVINCIAL AWARDS OF THE HOSPITALITY SEGOVIANA 2018 IN THE PARADOR OF SEGOVIA AND TRIBUTE TO THE HOSTELEROS AWARDED:
Jauja Restaurant: Angel Martin Cerezo And Asunción Ajmeneta Ajona.
Bar Castilla (Martin Muñoz de las Posadas): Consuelo Moreno Lopez and Arturo Valverde Moreno
JUNE 13 WEDNESDAY
16: 30 h. END OF THE PEKECHEF-SEGOVIA COMPETITION AT THE INTEGRATED CENTER FOR PROFESSIONAL TRAINING FELIPE VI, C / Dámaso Alonso nº 23 Segovia.
This year thinking about our customers, and knowing that dinner is always lighter, we decided to make some menus for shorter and cheaper dinners. The participating restaurants collaborate with the FOOD BANK of Segovia.
For more information clickhere.
Also, if you want to know all the menus offered by the restaurants, click here.