On Saturday 19 of October, in the Church of Dominican Nuns - located in the Plaza de la Trinidad - in the celebration of the Eucharist at 19,00h. The Madrid choir "Schola Gregoriana Matritensis" will sing in Gregorian and at the end of the celebration the same choir will give a concert.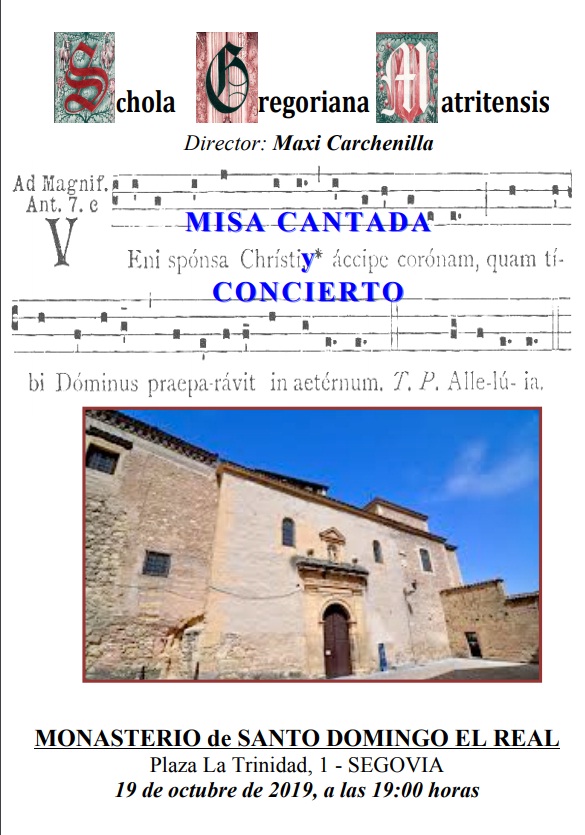 La
SCHOLA GREGORIANA MATRITENSIS,
offers interpretation
of this Mass and Concert,
with the aim of reaching many
the simplicity and richness of Gregorian chant.
on the occasion of festive celebrations.
- 1 -
CV of
SCHOLA GREGORIANA MATRITENSIS
- 2 -
Latest
ACTIONS
- 3 -
CV of
MAXIMINO CARCHENILLA
- 4 -
Yes,
INFORMATION and CONTACT
1 CV of SCHOLA GREGORIANA MATRITENSIS
The Schola Gregoriana Matritensis, is created under an initiative of
Maximino Carchenilla, following his musical, creative and artistic restlessness.
The Schola Gregoriana Matritensis, begins its formation in May of 2013,
and a few months later it is formed as a musical group, giving its
inaugural concert, as a "musical baptism", on 24 day of
November and on the occasion of the feast of Santa Cecilia, patron saint of
how many are dedicated to music, (November 22), in the Parroquia Reina
del Cielo, from Madrid, acting as "godmother" Mrs. Carmen Laseca,
President of the Coral Federation of Madrid.
The Schola Gregoriana Matritensis, composed exclusively of voices
male, aims to investigate, cultivate and disseminate the song
Gregorian.
For this, it has been marked as annual musical milestones: Concert with
Santa Cecilia holiday motive - Christmas Concert -
Holy Week Concert - Meetings and exchanges with others
scholas.- Interpretation of masses - Other celebrations and events
cultural.
You can check their specific actions on their website.
He has prepared a special concert under the name "LA VOZ DE LAS
FIRST MUSIC "composed of Gregorian music themes,
songs of ancient codices, medieval polyphony and songs
Traditional.
The Schola Gregoriana Matritensis wants to participate in her music, to
those who feel this musical restlessness, wish to share that artistic joy
and want to get excited with Gregorian chant as he sings in his "hymn"
composed of its director:
GREGORIANI SCHOLA MATRITENSIS
SIMPLICITATEM ET DIGNITATEM LUDIT
CANTUS GREGORIANI
ORIGINIS MUNDI MUSICAE.
AMEN, ALLELUIA.
(The Schola Gregoriana Matritensis interprets with simplicity and dignity the
Gregorian chant, cradle of universal music)
2 Latest ACTIONS
20-11-16 Sunday
Parish of Santa Beatriz de Silva - Leganés (Madrid)
Mass and Concert
18-12-16 Sunday
Parish of Navalcán (Toledo)
Mass and Blessing of Bethlehem
29-04-17 S
Royal Oratory of the Knight of Grace - Madrid
Mass and Concert
24-05-17 X
Parish of Saints Perpetual and Happiness - Madrid
Mass and Concert
28-05-17 D
Castrense Cathedral Church - Madrid
Solemn Mass
24-11-17 V
Hermitage of Our Lady of Peace - Alcobendas (Madrid)
Mass and Concert
16-12-17 S
San Alfonso María de Ligorio Parish - Madrid
Mass and Concert
10-03-18 S
Santa María de la Dehesa military parish - Madrid
Mass and Concert
24-03-18 S
Parish of the Carmelite PP - Talavera de la Reina (Toledo) Concert
(I Scholas Meeting)
12-05-18 S
Crypt of the Almudena Cathedral
Mass and Concert
13-05-18 D
Castrense Cathedral Church - Madrid
Solemn Mass
23-06-18 S
Parish of the Holy Spirit - Riópar (Albacete)
Mass and Concert
02-11-18 V
Crypt of the Almudena Cathedral
Mass "in memoriam"
04-11-18 D
Crypt of the Almudena Cathedral
Mass broadcast by RNE
24-11-18 S
Basilica of Santa Maria la Real de Covadonga
Mass
25-11 18 D
Astorga Cathedral
Solemn Mass
07-12-18 V
Parish of Our Lady of the Conception - Madrid
Mass and Concert
20-12-18 J
Reyes Catolicos Educational Center - Pozuelo de Alarcón
Concert
22-12-18 S
Parish of San Juan de Dios - Madrid
Mass and Concert
12-01-19 S
Parish of Our Lady Queen of Heaven - Madrid
Mass and Concert
26-01-19 S Cathedral of Sigüenza
Mass and Concert
25-02-19 L
Montserrat Caballé Residence - Madrid
Concert
09-03-19 S Parish of Santa María de Cervellón - Madrid
Mass and Concert
10-03-19 D
Parish of Santo Tomás Apóstol - Madrid
Mass and Concert
14-04-19 D
Cultural Center "El Porrón" - Novés (Toledo)
Easter proclamation
04-05-19 S
Santa Genoveva Residence - Madrid
Mass
18-05-19 S
Santa María de la Dehesa military parish - Madrid
Mass and Concert (II Scholas meeting)
01-06-19 S
Parish of San Isidoro and San Pedro Claver
Mass and Concert
02-06-19 D
Castrense Cathedral Church - Madrid
Solemn Mass
3 CV of MAXIMINO CARCHENILLA
Maximino Carchenilla González (IMPROVED - Toledo, 1950)
Since he was little he emphasizes his inclination to music.
At 8, he is part of the School Choir of La Salle-Talavera School
(Toledo), to join three years later at the Escolanía del
La Salle-Griñón Training Center (Madrid). Later is
Appointed Chapel Master (1968) at the La Salle Training Center
Pomegranate. It happens successively to be Director of the Escolanía and Teacher
of Chapel of the Training Center La Salle-Griñón, for six years,
subsequently developing in other educational centers the position of
Choirmaster.
To all this experience we must add his studies of solfeo, piano,
guitar, harmony and choral ensemble, performed at the Royal Conservatory
Superior of Music of Madrid, besides diverse courses of pedagogy
musical. choral direction and musical composition.
He teaches music training courses for music teachers, both
face-to-face as online, with various institutions: Prodidac, FERE,
ICCE ...
His musical restlessness leads him to form the popular music group
REDOBLE and the Sephardic music quartet SIMANE; with this last record
the album "From Sepharad to Thessaloniki." In 2017 this activity resumes
group.
It is also dedicated to the composition and recording of musical works
Pedagogical, catechetical and religious with various publishers: PPC, San
Pablo, San Pío X, SM, Bruño, Edelvives, Oxford, McMillan ...; fits
highlight his work dedicated to the teacher "You taught me to fly"
In the year 2000 created in Madrid the Coral STELLARUM, participating in
musical events of different types: meetings, contests, events, Mass
on TVE ..., which has been its director until 2017.
He has collaborated with the Schola Gregoriana Caesarobrigensis and with the Coral
Polyphonic Salvador Ruiz de Luna, from Talavera de la Reina.
He was also founder of the Voices de Mejorada group, of which he was
director up to 2010.
He has been the director of the Coral CEPA, of Pozuelo de Alarcón (Madrid)
He currently combines various activities as a pedagogue,
musicologist and composer. It is worth highlighting your lesson with more than 160
field, kitchen and labor instruments, with which it is accompanied in its
Traditional music concerts "Al son de mi tierra".
Within this folk dimension, the participation with
various musical groups and the recording of record projects
For different groups.
He collaborates annually in the editions of the Anthropology Conference of
the Sierra de San Vicente, which are developed in Almendral de la Cañada
(Toledo).
He is the official presenter of the Navalcán National Folklore Festival
(Toledo).
He has conducted the weekly "El zaguán del unío Maxi" on Radio
Castilla la Mancha, about folklore and traditions. For this program
the Agrupación Cristo de la Veracruz, granted him the Folklore Prize
2012.
It is the City of Talavera 2008 Music Award.
4 INFORMATION and CONTACT
Telephone:
606 08 46 36
Web page: (copy in the web address bar)
https://schola-gregoriana-matritensis.webnode.es
Facebook profile:
Schola Gregoriana Matritensis
E-mail:
This e-mail address is being protected from spambots. You need JavaScript enabled to view it.
This e-mail address is being protected from spambots. You need JavaScript enabled to view it.