National Heritage has approved a project for the recovery of the surroundings of the Palace of Santa Cecilia, within the municipal area of ​​the Royal Site of San Ildefonso. The project presented and finally approved by National Heritage and supported by the City Council of the Real Sitio de San Ildefonso, according to Europa Press, contemplates the recovery of the space of the Palace of Santa Cecilia, both of the palace building itself (affected by the years of inactivity ) as well as adjacent buildings, such as the stables or the old baths.
As reported by the promoters of this Palace, the action is "very respectful of nature and commitment to sustainability, it has planned the reforestation of the farm and with it the return to the banks of the reservoir of native flora and fauna species, lost to this day due to the passage of time and abandonment ".
Through a note from the communication department of the Palace of Santa Cecilia, the project proposed for the Palace estate bases the immediate future of the space on a series of aspects that are closely linked to the conservation, promotion and care of nature, with water as a common nexus.

The Palace of Santa Cecilia was previously a hotel and the headquarters of the College of the Sacred Hearts, and the tribute to history will also be present in the project. Special emphasis will be placed on the development of spaces for children, intended for healthy learning in a natural environment through different workshops in writing, painting, music and other disciplines rooted in the tradition of artisan workshops that meant, and some still do. They do a large part of the activity of the Real Sitio de San Ildefonso.
The Santa Cecilia farm is located in the Real Sitio de San Ildefonso, bordering the Eresma River at the foot of the Pontón Alto reservoir. In it you will find the emblematic hotel or palace of Santa Cecilia, a historicist building built between 1904 and 1906 as a noble residence; equipped with brick facades and tower. It consists of four floors and is completed with a guard house and stables. Used as a residence and college of the Sacred Hearts, it is currently empty and unused.
The total area of ​​the plot is 55.370 square meters, of which 1.065,95 are occupied by buildings. A few have been the projects that were thought for this building that National Heritage has been trying to rent for years, but none have come true, so far. It will now be restored.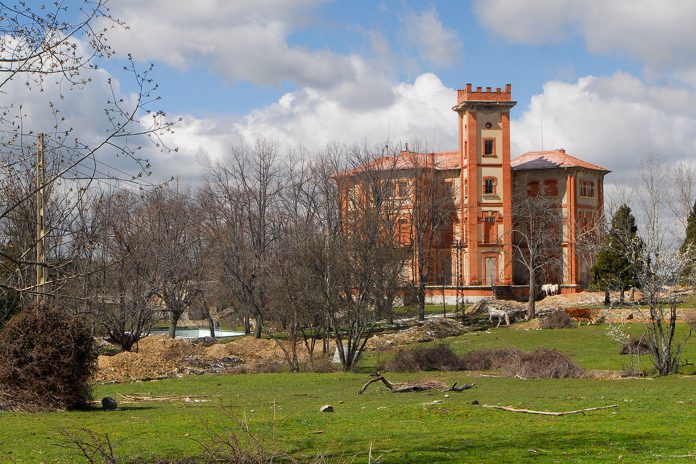 Source: The Adelantado de Segovia