This route covers the towns of Aldeanueva de la Serrezuela, Sepúlveda, Cantalejo, Fuentidueña and Sacramenia. If you want more information about our routes, download the complete brochure here.
ALDEANUEVA DE LA SERREZUELA
Victoriano Hernando Exhibition
Tel. +619 147 716
SEPÚLVEDA
Declared one of the most beautiful villages in Spain

Tourist Office
Tel. +921 540 425
www.sepulveda.es

House of the Hoces del Río Duratón Park

Tel. +921 540 322
www.miespacionatural.es

Museum of Old Toy Figures

Tel. +921 540 417
www.toyfigurespain.com

Theater visits Sepulveda Viva

Tel. 921 540 237 / 617 514 619
www.sepulvedaviva.es

Monuments:

Castle and walls, Church of El Salvador, Museum of the Fueros, Church of Nuestra Señora de la Virgen de la Peña, Church of San Bartolomé and Interpretation Center of the Old Sepulveda Prison.

Events

Fiesta de los Fueros, Fiesta de El Diablillo and Fiestas de los Toros.
CANTALEJO
Trillo Museum

Tel. 921 522 001
www.cantalejo.es
FUENTIDUEÑA
Declared Historic Site of Cultural Interest
Tel. 921 533 464 (Town Hall)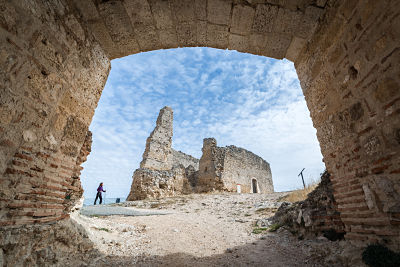 Monuments:
Walls, Chapel of the Pillar or of the Counts of Montijo, Church of San Miguel, Hospital of the Magdalena, Ruins of San Martin, Necropolis, Castle, Church of Santa María la Mayor or of the Arrabal, Hospital of San Lázaro and San Juan Franciscan Convent of Penance.
Events:

Night Festival of Water and Fire.
SACRAMENIA
Town hall

Tel 921 52 70 11
www.sacramenia.es
Monuments
Hermitage of San Miguel, Church of S. Martín de Tours, Church of Santa Marina, Church of the Monastery of San Bernardo, Hermitage of Santa Ana and Cruz de la Trinidad. Altamenia Museum
MORE...
Natural Park of the Hoces del río Duratón